10 Social Media Statistics You Want to Watch for Healthcare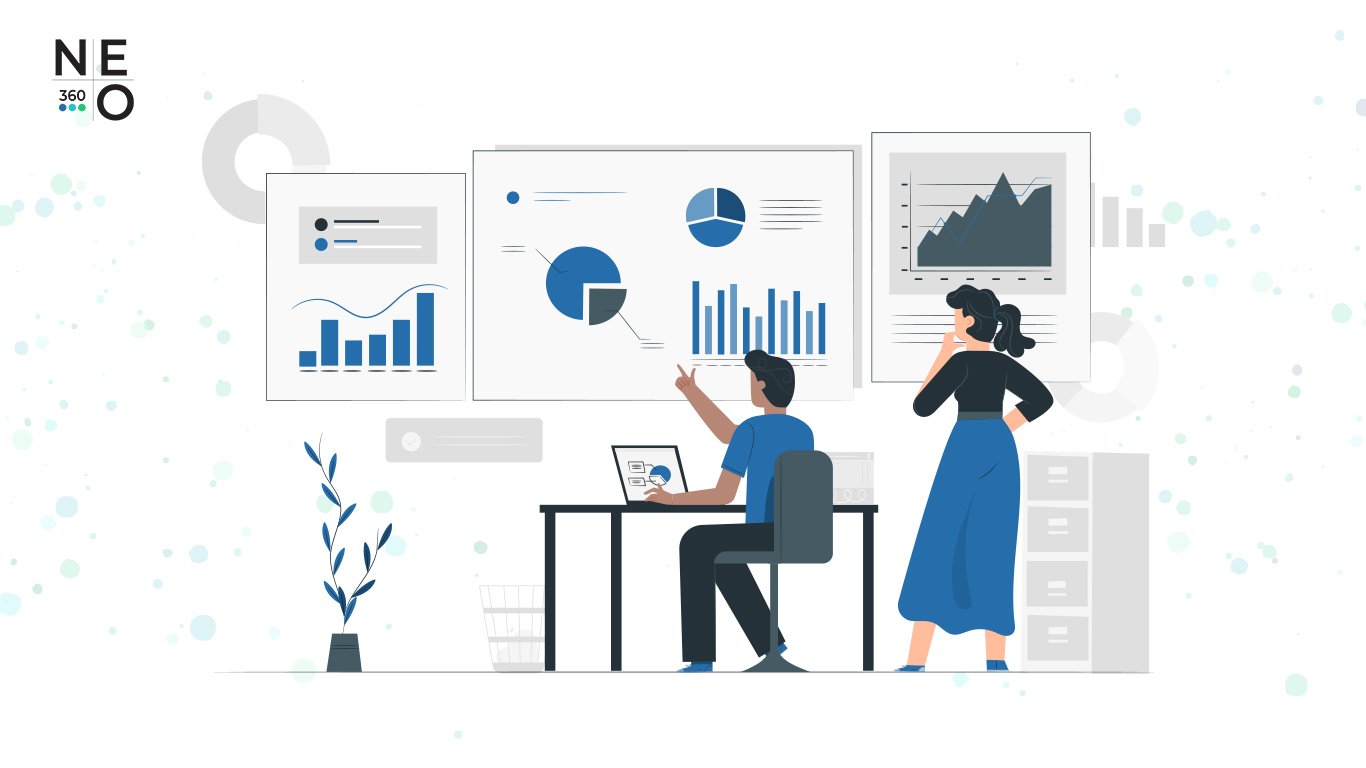 Oh, how digital marketers love their numbers! They tell you how well ads are doing and what you need to fix—but best of all, they offer insights into not just how one campaign is doing, but an entire industry, in an entire country.
In this round of 360° Views, we take a look at a total of 10 statistics that tell an interesting story about social media use in Singapore and Australia's respective healthcare industries.
While the differences between the two countries are apparent, they also have quite a few things in common. Both are among the best places in the world for doing business, relatively newly formed nations, British-influenced countries, and have several joint initiatives in the works.
Let's see what the numbers can tell us about the role played by social media in guiding people toward solutions that help them feel better and live a healthier lifestyle.
Social Media Statistics for Singapore
With 79% of Singaporeans being active social media users, the Little Red Dot's healthcare industry has actively used social media to distribute essential information, and maintain communications between the public and the authorities.
1. Facebook Use
50% of Singaporean women with an interest in healthcare who are using Facebook are between the ages of 25 and 34, while the other 50% are between ages 35 to 44. Additionally, 33% of all female users in Singapore on Facebook aged 25 to 34 have an interest in healthcare.
13% of Singaporean men with an interest in healthcare who are using Facebook are aged 18 to 24; 60% are 25 to 34 years old; 20% are aged 35 to 44, while 7% are 45 to 54 years of age.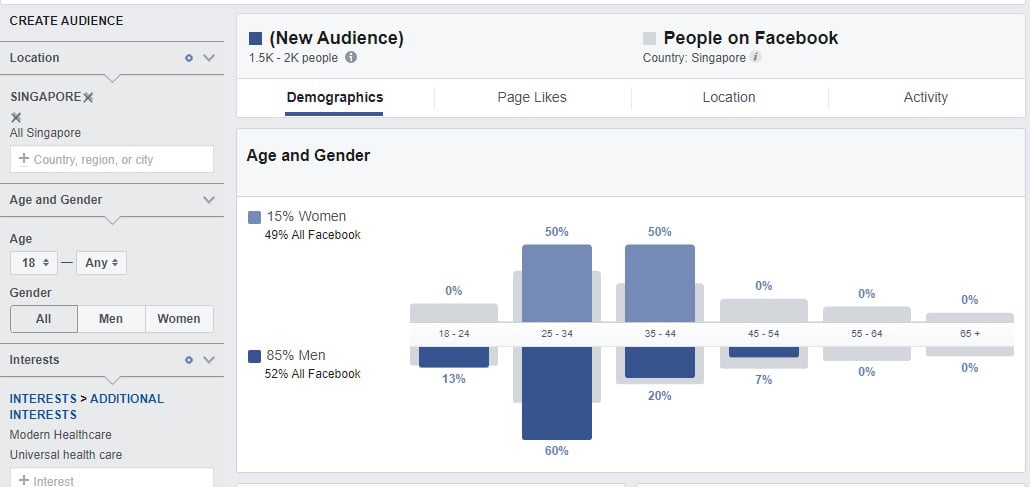 Source: Facebook
2. Most Popular Pages
Healthcare pages in Singapore with the largest Facebook audience *
My Serendipity Journey: 44,122 fans
Parkway Cancer Centre: 38,322 fans
Medica Group: 38,195 fans
Fastest-growing Healthcare pages in Singapore *
Centrum SG: +18 fans
OSIM SG: +9 fans
Mundipharma: +8 fans
* At time of writing
Source: Socialbakers
3. Senior Citizens
64% of silver surfers in Singapore use digital health tools to manage their healthcare, with 20% of them using social media.
Source: Accenture
4. Smartphone Use
64.3% of participants in a Singapore survey on smartphone-mediated mobile health were open to using it in the future, with 98.5% of participants using their smartphones for social media.
Source: National Center for Biotechnology Information
Social Media Statistics for Australia
The Royal Australian College of General Practitioners notes how almost 80% of Australians are social media users, and how 25% of Australians follow businesses or brands on social media. This, together with its cost efficiency makes social media a handy means of communication for general practices reaching out to patients.
5. Facebook Use
11% of Australian women with an interest in healthcare who are using Facebook are between the ages of 18 and 24; 23% are aged 25 and 34; 20% are aged 35 to 44; 18% are aged 45-54; 15% are 55 to 64 years old; and 14% are over the age of 65.
13% of Australian men with an interest in healthcare who are using Facebook are aged 18 to 24; 28% are 25 to 34 years old; 20% are aged 35 to 44; 15% are 45 to 54 years old; 12% are 55 to 64 years old; and 12% are over age 65.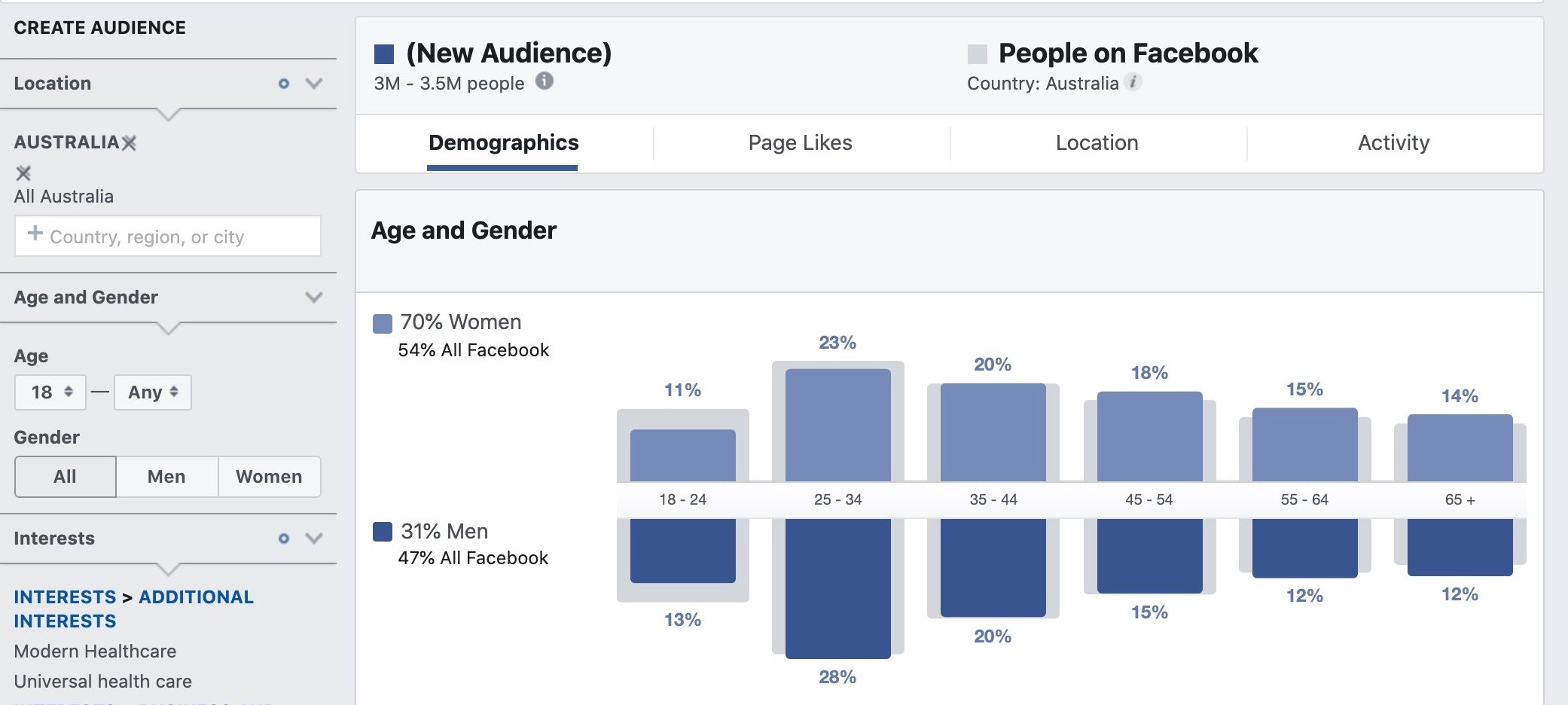 Source: Facebook
6. Most Popular Pages
Healthcare pages in Australia with the largest Facebook audience *
Blackmores: 308,622 fans
Clearly.com.au: 154,893 fans
Vicks Australia: 124,736 fans
Fastest-growing Healthcare pages in Australia *
Blackmores: +155 fans
Australian NaturalCare: +10 fans
St John of God Subiaco Hospital: +8 fans
* At time of writing
Source: Socialbakers
7. Government Use
The Australian Government Department of Health has
334,354 page likes and 656,946 page followers on Facebook
23,220 followers on LinkedIn
96 monthly viewers on Pinterest
86,000 followers on Twitter
2,817,889 views on YouTube
26,900 followers on Instagram
Source: Australian Government Department of Health
8. Use by Medical Professionals
65% of medical students in a study at the University of Otago in New Zealand had a Facebook account, whilst other research reflected the growing use of social media among medical professionals.
Source: Australian Medical Association
9. Social Media Themes
Mental Health comes in at no. 7 of the top 10 social media themes in Australia.
Source: Talkwalker
10. Information Source
In a study on "Social media use in youth health promotion" in South Australia, the Internet is a high-ranking source of health and wellness advice and support for young people.
In a related survey within the same study covering young people in Adelaide, websites were the second most popular means of obtaining health and wellness information, after friends.
Source: Government of South Australia SA Health
What do these statistics say?
As countries with a high internet penetration rate, both Australia and Singapore recognise and harness the potential of social media for healthcare communications.
With older generations adopting internet technology as shown by Singapore statistics, and younger generations embracing it as reflected by numbers from Australia, the potency of social media cuts across age demographics as well as it does geographic locations.
Both countries' government health ministries are making the most of their respective social media accounts. This suggests a certain "credibility by association" that the use of these platforms may lend healthcare brands using these same channels for reaching out to their respective audiences.
Healthcare brands also benefit from the social proof unique to these platforms, in that if their audience sees how many other people are engaging with them, it may encourage them to engage with those brands, as well.
The source material for the statistics above also notes how medical professionals are using social media to network or share information with their colleagues, and how there are standards or regulations in place to ensure responsible use. Find information about compliance in Singapore here, and in Australia, here.
The figures above validate the effectiveness of social media's reach, and suggest certain thematic content creation trends such as:
Social media for healthcare isn't used exclusively by young people; a growing number of older people are active users
Private medical practices, as well as government health authorities use social media
Aesthetic medicine, cancer, general healthcare, wellness, and pharmaceuticals are trending topics in Singapore
Wellness, mental health, eye care, general healthcare, organic healthcare, and healthcare products are trending topics in Australia
Content plays a huge part in the success of social media use, as may be seen in several other statistics. Find resources for creating social media content and making the most of your social media presence for medical practices, below:
As a full-service healthcare 360 digital marketing agency, we've spent years helping doctors and medical practices to optimise their use of social media as part of a comprehensive 360 digital marketing strategy. This allows our clients to amplify the effectiveness of their social media efforts as well as maximise their results.
Social media continues your messaging where display advertising and other awareness-generating communications leave off, giving your audience the chance to engage with you and to see what others have to say about your services.
Whether it's Facebook, Instagram or LinkedIn, social media is an important stop along the buyer's journey of your potential patients. Find out how a solid 360 strategy can boost your own social media numbers, today.

---
About the Author
Managing Director
A Mechanical Engineer by training who graduated from the Nanyang Technological University. With over 15 years of experience working in Start-Ups, SMEs and MNCs, he has driven sales revenue and leads across the Asia Pacific region. Shei Wah was one of the SEO Speakers at the first Search Engine Strategies Conference 2011 held in Singapore. As Managing Director, he aims to establish NEO360 in all of the world's major cities. Even as he works toward this goal, Shei Wah also dreams of his children's future happiness, and unwinds by doing calisthenics with his former school buddies three times a week.