Own A Medical Practice In Singapore? Read The Top 8 Myths Of Digital Marketing That Keep Breaking Out Like An Epidemic
However widespread the acceptance of something might be, there's always going to be somebody who'll question this acceptance, and spread their opinions on that something. Unfortunately, these opinions often end up construed as fact, even when unfounded or misguided.
So even as digital marketing continues to gain acceptance among most businesses, including medical practices in Singapore, myths continue to abound surrounding its use and effectiveness. And as is usually the way of it with gossip, what is passed on becomes wilder and more implausible with every retelling.
As a relative newcomer to the use of digital marketing for attracting more customers (i.e. patients), the healthcare industry is particularly susceptible to half-truths and ill-informed assumptions that keep coming back like a bad case of rhinitis.
But being practical men and women of science, doctors (and digital marketers, for that matter) know that hearsay isn't data-driven, empirical evidence.
And just as you wouldn't seriously try a crack remedy you heard about from your brother's girlfriend's cousin's grandma's mahjong partner, so should you not market your clinic based on hearsay alone.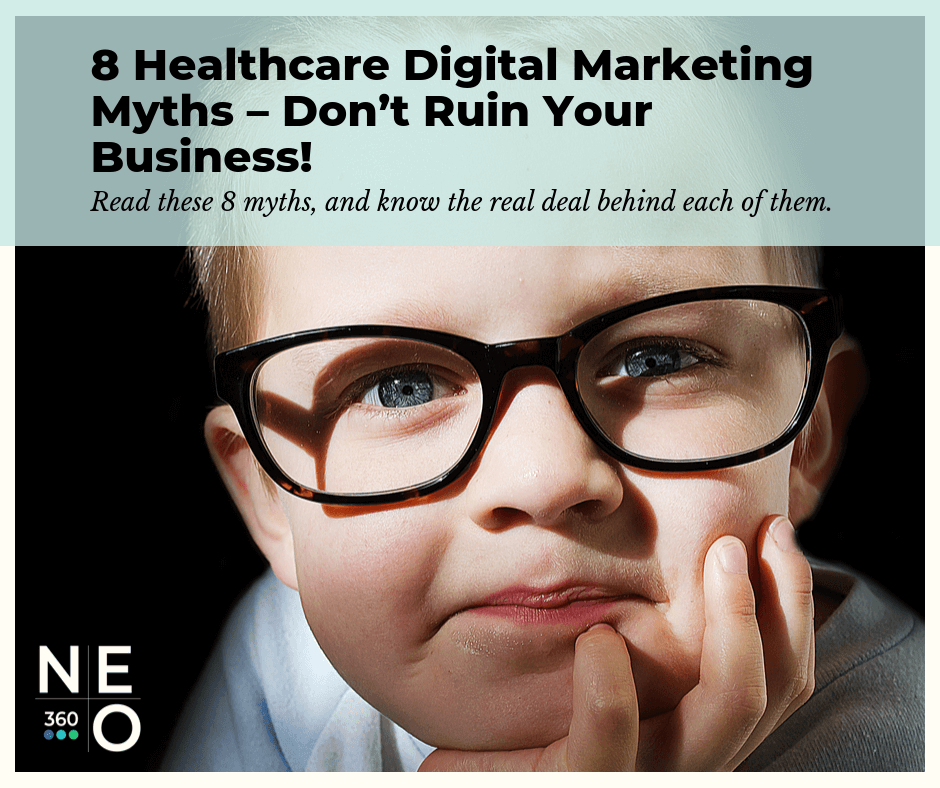 Myth No. 1: If you're an individual doctor and not a group, you don't need a brand
Fact: Branding will help you stand out among the thousands of doctors in Singapore (Source: Data.gov.sg), who are bound to come out alongside you when a potential patient goes online to look for someone to consult.
A huge part of branding is the way you present yourself on- and offline—visual cues such as design and presentation, as well as what you say, and how you say it. Bear in mind that the way you present yourself online, in particular—whether it's on your website, on social media, in ads or elsewhere—affects the way your potential patients see you.
This includes your customer service, which takes on an added significance when you consider that 60 to 70% of patients opt for health care services using the Internet. This also includes your online user experience: 11% of visitors to a hospital or health system say their website experience created new negative feelings about that brand. (Source: Klein & Partners)
In the US, 53% of physician practices have a Facebook page, and audiences there are 60% more likely to trust doctors that are online versus those that aren't. (Source: CDW) There are also 967 hospitals on Twitter and around 3,000 hospitals with a company page on LinkedIn (for recruitment purposes). (Source: Becker's Spine Review)
In short, your branding, or the way you present yourself, affects the decision that potential patients make as to whether they end up consulting you or not.
Myth No. 2: You can get away with not following advertising regulations
Fact: There are strict penalties for non-compliance with Singapore's Private Hospitals and Medical Clinics or PHMC (Publicity) Regulations.
Get caught using prohibited words, phrases or images, and you could be on the receiving end of the wrong kind of letter from the Ministry of Health—not to mention thousands of dollars poorer.
MOH investigates regulation breaches that are brought to their attention, with 124 complaints received this year as of September 23rd (compared to last year's 155) (Source: Asiaone)
Take note: the MOH isn't the only one keeping their eyes peeled for regulatory infringements—your competitors are, too. And even if you should notice ads here or there that don't comply or see repeat offenders that seem to be getting away with it, don't think that makes it okay for you to flout regulations, as well.
Taking care to ensure your own compliance not only keeps you out of trouble, but also gives you peace of mind. Isn't it great to not have to worry about getting found out or fined? Neither would you have to worry about being perceived as unprofessional or unethical by your peers, and particularly, your current and potential patients.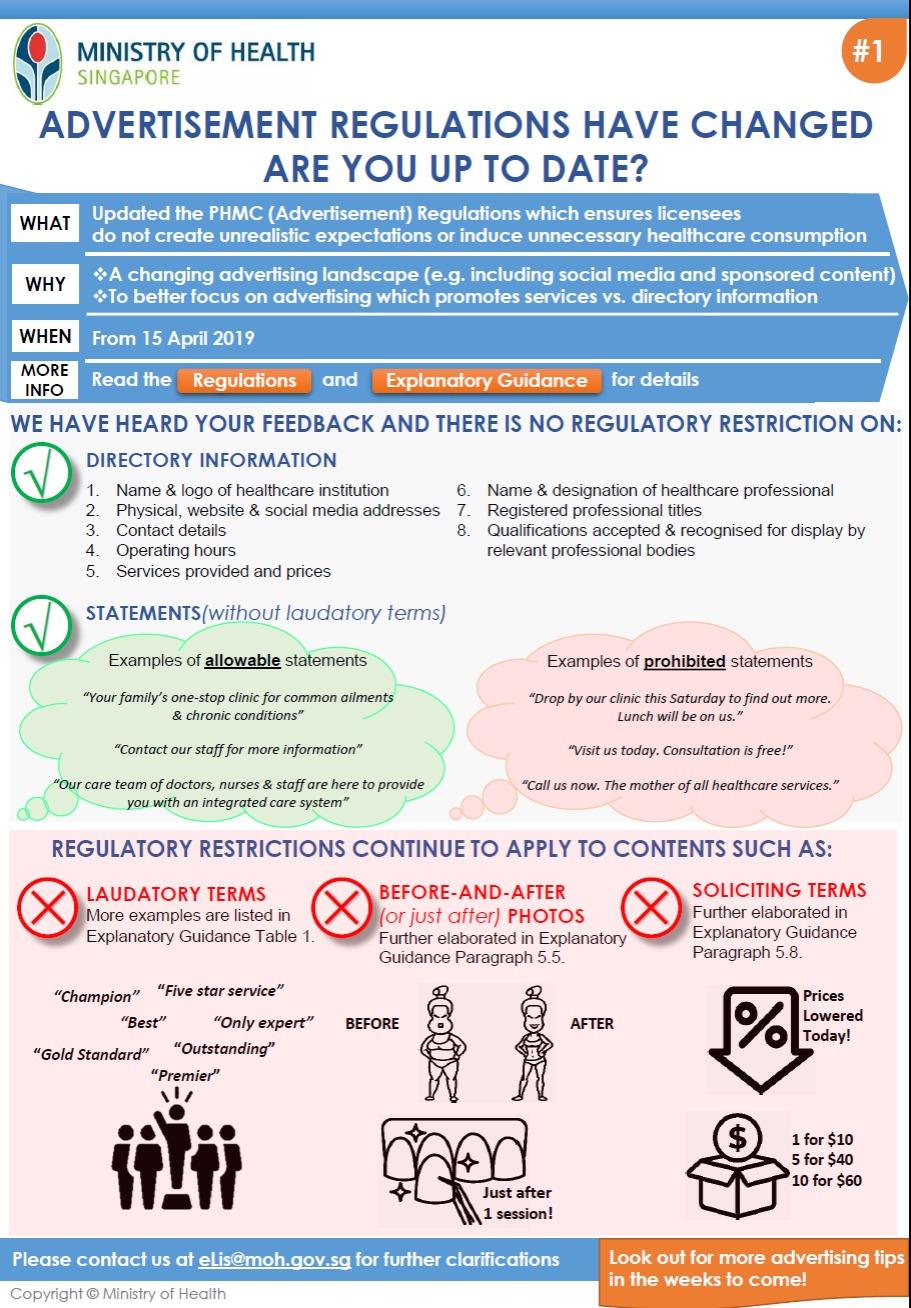 Source: Ministry of Health of Singapore
Myth No. 3: Having a website is good enough for digital marketing
Fact: Having just any old website is far from enough — your website has to be optimised for search, and for the user experience.
Optimising your website for search means making sure that when a person goes online to look for a clinic to go to, your clinic's website will be easy to find. Don't forget, you won't be the only doctor or practice to come out in the search results, and people are more likely to come to you if your website is one of the first they see.
Optimising your website for the user experience, on the other hand, means making sure that anyone who finds your website stays long enough for it to convince them that your clinic is the one they should go to.
If your website is badly designed, difficult to use, and doesn't answer the questions they may have, you can kiss your chances of convincing that person to become your new patient, goodbye.
In addition to your optimised website, you'll need to have a robust social media presence. 2.83% of Singapore's population are on social media, and the number of social media users here has grown by 9% since January 2017. Singaporeans also spend an average of 2 hours and 6 minutes daily on social media (Source: Wearesocial-Hootsuite Global Digital Report 2019).
Myth No. 4: Digital marketing doesn't work
Fact: Not only does digital marketing work, but you can also, actually see it working.
A lot of the time, if done properly, digital marketing results may even be seen right away.
If you use search engine marketing (SEM) or search engine optimisation (SEO), for instance, to attract people to your clinic's website, you'll be able to see how many people booked a consultation with you during a website visit.
Note that search drive nearly 3 times as many visitors to hospital sites, and that patients mainly search for symptoms and conditions as they are about to convert (or perform a desired action such as clicking, filling out a form or downloading a resource). (Source: Think With Google)
Or, if you use social media for promoting your practice, you'll be able to see how many followers you gained, how many people engaged with your posts, and how many people have become new patients.
In Singapore, 35% of advertising is done online. (Source: Singapore Business Review). Healthcare ads are 24% less expensive than other Facebook ads, and more than 75% of Americans use social media to look up their symptoms, while 41% of consumers says social media affects their choice of hospital or physician (Source: PricewaterhouseCoopers).
Myth No. 5: You need a huge budget for digital marketing
Fact: Digital marketing costs a lot less than traditional methods, with social media marketing being the one of the most cost effective.
On Facebook, $5 a day will get you 9 likes, 1 click to a Buffer homepage (landing page), and 787 new people reached (Source: Insights).

Traditional marketing media, e.g. TV, radio, print and direct mail, involves thousands of dollars on production alone, which means you will have already spent a bundle before you even begin to get your message across to your potential patients.
And even when the time comes to spend yet another bundle on broadcasting, publishing or delivery, there's no way to be 100% sure that your message is reaching just the people who are most likely to go to your clinic.
While traditional media has its place in marketing overall, it may not be an ideal or efficient communication route to go for a growing medical practice, even one with the requisite resources.
On top of costing significantly less in terms of production and dissemination, digital marketing has the distinct advantage of being able to reach specific, strategically targeted audiences.
In other words, digital marketing makes sure that you're spending your marketing dollars on talking only to people who have a better chance of becoming your patients—and not wasting your budget talking to anyone else.
Compare that to putting an ad in the paper, where out of however many people who see your ad, you can never be sure whether any of them fit your practice's ideal patient profile or buyer persona.
Myth No. 6: You can't tell if there's a return on your investment into digital marketing
Fact: Digital marketing is all about collecting data, which means the returns of your investment are readily measured.
Advertising platforms such as display ads and social media all come with metrics that can tell you how many people saw your ads. Some of these metrics include
Conversion Metrics
Sales and Revenue
Leads from Web forms
Leads and sales from phone calls
Leads from live chats
Consumer Behaviour Metrics
Website visits
Page Views per visit
Time spent on the website
Bounce rates
Add to Cart
Initiate Checkout
Add Payment Info
These metrics can also tell you how many people converted, or took action because of your ads. An example of such an action is booking a consultation at your clinic—digital marketing makes it easy to track these actions and therefore to calculate your ROI.
In fact, research shows a 500% improvement in ROI from marketing efforts for businesses using mobile, social, email and video marketing simultaneously. You can download the report here.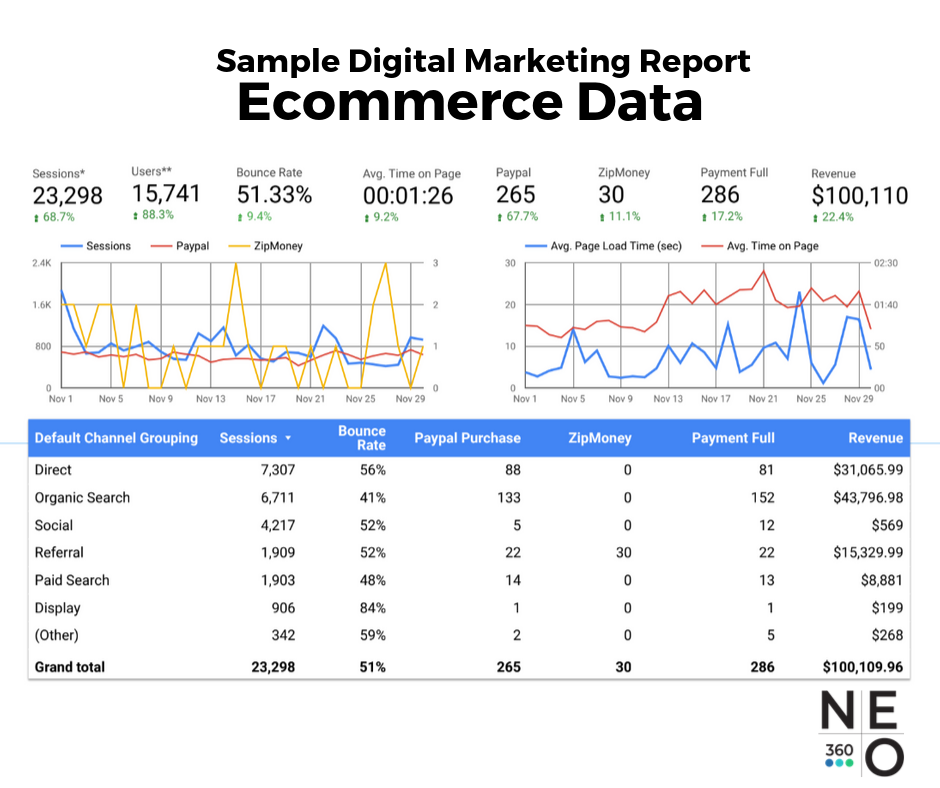 Myth No. 7: One digital marketing platform is all you need
Fact: Different digital marketing platforms do different jobs, which means some platforms are better for reaching certain marketing objectives than others.
For example, if your medical practice is new and you want to create awareness for it, display ads can do the job quite nicely. If your objective is to increase the number of appointments booked at your clinic, a lead generation campaign on social media would be more suited to the task.
Choosing to focus on one platform alone, such as SEO or one social media channel, will therefore limit the reach and effectiveness of your digital marketing efforts.
In recognition of this trend, 95% of marketers understand the importance of multichannel marketing (Source: Multichannel Digital Marketing Report 2015) while 50% of multichannel marketers generally hit their financial targets. (Source: Adobe)
Pharma and healthcare, in particular, has spent some $2.53 billion on digital advertising in 2017, which includes ads, not just on one channel but all ads on desktop and laptop computers, mobile, tablets and other internet-connected devices. (Source: eMarketer)
In the US, statistics show healthcare and pharmaceutical spending on digital advertising was projected to hit $2.84 billion. (Source: Statista)
The 360° Approach To Digital Marketing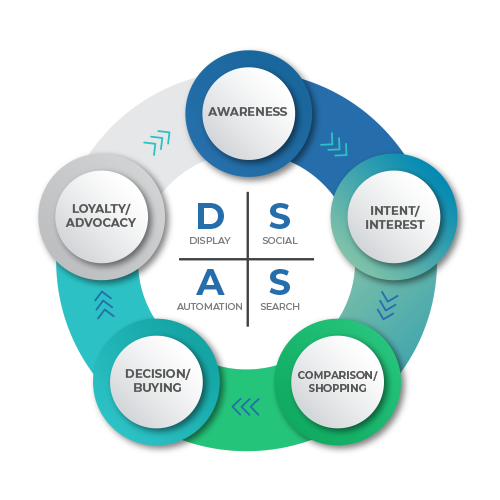 Myth No. 8: Digital marketing is more about short-term gains than long-term growth
Fact: Digital marketing can help you achieve both your short-term and long-term objectives for your practice — indeed, they are not mutually exclusive, and must both be part of a well-rounded digital marketing strategy.
While we did say that the results from digital marketing may be appreciated almost immediately, other forms of digital marketing such as content creation using the inbound marketing approach is geared toward growing your practice for the long run.
This approach acknowledges the fact that it takes time for a person to move through the different stages of the buyer's journey—the buyer, in this case, being your potential patient.
With inbound, content is prepared for when a person has yet to become aware of your clinic's services, when that person is considering different clinics that provide these services, and when that person is about to decide on your clinic.
Making sure you have the right kind of content in the right place online, at the right time contributes to strengthening your personal brand or the brand of your clinic over time. And like the short-term gains you can expect from properly performed online campaigns, this long-term brand building can be achieved through digital marketing.
Achieve the goals you have for your practice — not with myths nor mere hearsay, but with data-driven digital marketing designed especially for medical services providers.

Disclaimer
The information contained in this website is for general information purposes only. The information is provided by NEO360 and while we endeavour to keep the information up to date and correct, we make no representations or warranties of any kind, express or implied, about the completeness, accuracy, reliability, suitability or availability with respect to the website or the information, products, services, or related graphics contained on the website for any purpose. Any reliance you place on such information is therefore strictly at your own risk.
---
About the Author
Managing Director
A Mechanical Engineer by training who graduated from the Nanyang Technological University. With over 15 years of experience working in Start-Ups, SMEs and MNCs, he has driven sales revenue and leads across the Asia Pacific region. Shei Wah was one of the SEO Speakers at the first Search Engine Strategies Conference 2011 held in Singapore. As Managing Director, he aims to establish NEO360 in all of the world's major cities. Even as he works toward this goal, Shei Wah also dreams of his children's future happiness, and unwinds by doing calisthenics with his former school buddies three times a week.