5 Warmhearted Ways to Show Patients You Care on Social Media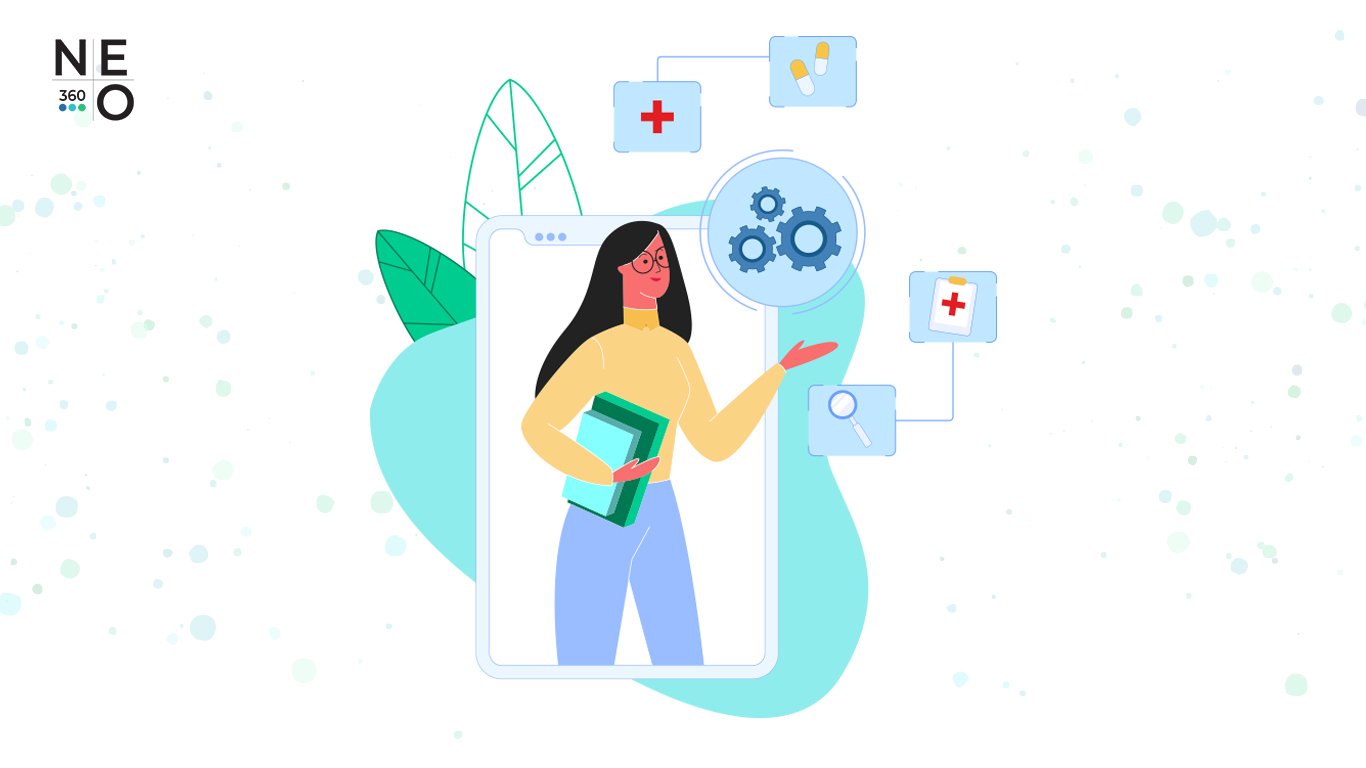 The medical profession can seem so cold, sometimes—and all the technology getting in the way, doesn't help, either.
But though technology may play a contributory role in the sometimes standoffish vibe given off by medical professionals, it also has a key part to play in showing people that doctors do have big hearts as well as big brains. And the technology we're talking about here, in particular, is social media.
See, a "cold and clinical veneer" isn't exactly what people expect when they reach out to a doctor, right? When they do, they're in pain, in one form or another, and when they look for someone to help alleviate that pain, they're also hoping for some sympathy or a kind word to assure them that their needs are understood.
Of course, we expect medical professionals to sound, well, professional. None of us in our right mind would probably go to see a doctor who was all "Hey, u take ur meds yet? 😜" And it certainly wouldn't do to have doctors freak out in front of you as a form of empathy in the face of an emergency or a disheartening diagnosis.
BMC Medical Ethics says any expression of feelings is perceived as unprofessional and a weakness among doctors, which is why many of them learn to suppress or ignore their emotions. This emphasis on maintaining their professional distance probably also accounts for why medical service providers can seem distant and difficult to relate to.
Thing is, the National Center for Biotechnology Information says that people want doctors to be supportive and to use information and communication technologies in providing that support. It's a delicate balance that needs to be struck, but medical practice owners and managers like you can pull it off with careful planning and execution.
Here are five warmhearted ways you can use social media to show current and potential patients that you really do care about them as a fellow thinking and feeling human being.
1. Tell them what they want to know.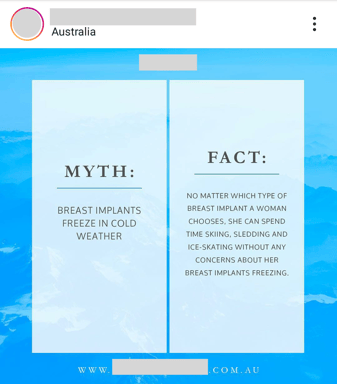 A cardinal rule of creating content for social media (or any other channel, for that matter) is to keep your audience foremost in your mind—to picture them as they approach, as it were, your profile or a particular post. What do you think they want to hear from you?
As a medical practitioner, you're bound to hear the same questions a few times from some of your patients, so it can be helpful to address these queries in a way that doesn't identify any particular asker. Tailoring your posts to people who are looking for the services you provide helps keep your content relevant or relatable to your audience.
Posts like these express your commitment to serve people, and show that they can count on you to pay attention to what they're saying and to provide reliable answers. In answering their general questions, do your best to keep the focus on your audience, rather than on your practice, and to sound like you're giving advice, instead of a lecture.
2. Bring a ray of sunshine into their feed.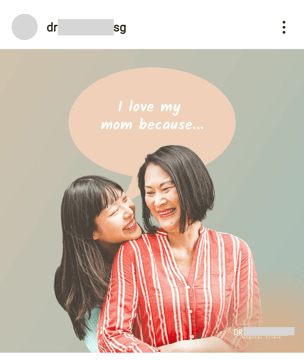 Healthcare is all about hope—it's about supporting people who are suffering and letting them know that somebody cares about what they're going through and doing their best to help them get through it. You can be that beacon of hope when you post positive, uplifting content that motivates your audience and keeps their spirits up.
This doesn't mean sugarcoating facts or taking serious medical issues lightly, but it does mean taking the human side of healthcare into consideration when creating content. That human side resonates with well-placed humour or funny stories, and responds to smiling faces and touches of colour. It likewise identifies with stories of everyday heroism, courage and gratitude.
Bringing a smile to their clouded faces is one of the best ways to show that you're a healthcare provider with a heart. Find advice for creating this kind of content in our 5 Healthy Instagram Practices for your Medical Practice.
3. Show them that you're really listening.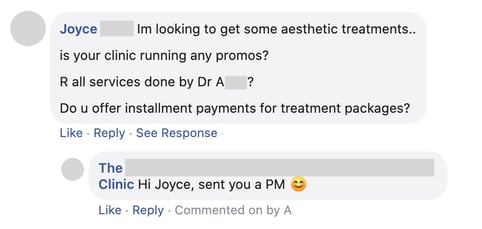 Using social media involves "socialising", that is, engaging in conversations with your audience which comprises potential and even current patients. Thanking people for liking your posts, following you and even sharing your content are simple but powerful ways to show them that you appreciate their time and support.
Taking the time to reply to comments shows that you really care about what they have to say, and not just about whether they're converting or scheduling an appointment. The way you respond to their comments also says a lot about what it might be like to actually engage with you at your clinic or in your consulting room.
Take extra care when replying to specific medical questions or requests for advice, as this may compromise the privacy of the person asking. Note that the Singapore Medical Council has guidelines that protect patient confidentiality.
You may reply by asking the person to message you directly (making sure that only those who are authorised, i.e. the doctor has access to the conversation). Find tips for making such replies, here.
4. Share short, sweet and salient snippets.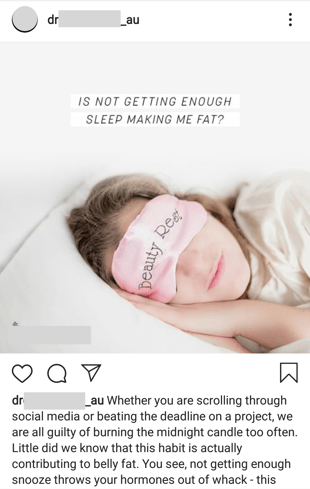 Doctors are expected to be authorities in their field, and sharing healthcare information and reminders that contribute to their patients' well-being is among their many responsibilities. Package this information in short, easy-to-digest and memorable forms using bullet points in your post captions, mini-infographics and instructional videos.
This tells your audience that you care enough to communicate with them on their terms, using words they can understand, rather than super technical, medical jargon. Bear in mind that the more helpful or practical the information is, the more likely your audience is to share your content, which in turn helps you to reach more potential patients.
In so doing, you not only educate your audience and establish your authority, but you also encourage them to find out more about you and the services you provide, and even to book a consultation.
5.

Stay true and be transparent.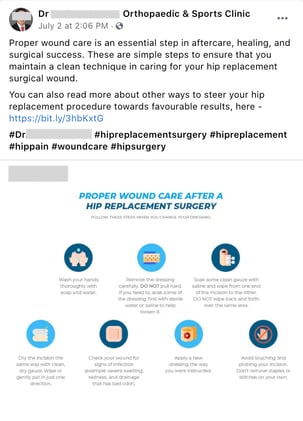 Honesty is the best policy when it comes to healthcare communications; indeed, Singapore's PHMC Guidelines are there to make sure only the facts are presented to the public. When talking about how effective certain treatments or procedures are, be transparent about what people can expect, success rates, and the results you've achieved at your own practice.
Be honest and clear about your stand as a medical practice on certain relevant issues, taking great care to be respectful of other people's views and feelings. If your medical practice should make any mistakes, whether it's on social media or elsewhere, it's essential to be honest and clear about this, too. Find pertinent advice in our 5 Ways to NOT Use Social Media.
This shows people that they can trust you to be straightforward with them, that you would never wilfully withhold anything from them that they have the right to know, and that you have only their best interests at heart.
Because of the various regulations and the grave responsibility involved, social media for medical practices can be challenging, particularly for busy medical professionals who have their hands full enough as it is with the needs of their patients.
With the times being what they are, our medical service providers need all the help they can get. Helping to maintain open lines of communications on social media is one of the humble services we can provide for doctors as part of our 360 healthcare digital marketing strategy.
Professional distance notwithstanding, let potential patients get to know you as the caring, warmhearted and dependable medical professional you really are. Find out how we can help you the way we've several helped medical practices just like yours.
---
About the Author
Managing Director
A Mechanical Engineer by training who graduated from the Nanyang Technological University. With over 15 years of experience working in Start-Ups, SMEs and MNCs, he has driven sales revenue and leads across the Asia Pacific region. Shei Wah was one of the SEO Speakers at the first Search Engine Strategies Conference 2011 held in Singapore. As Managing Director, he aims to establish NEO360 in all of the world's major cities. Even as he works toward this goal, Shei Wah also dreams of his children's future happiness, and unwinds by doing calisthenics with his former school buddies three times a week.