Finding the RIGHT Video Production Company Is Hard in Singapore - Really?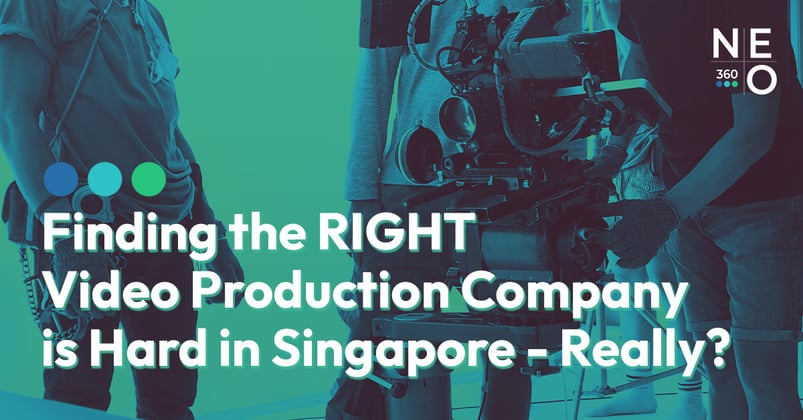 There's no question that videos are a vital part of any company's marketing strategy. But why are they so important? And what kinds of videos should you be creating for your business?

There are many factors to consider when choosing the right video and the suitable video production company to produce it. In this blog post, we'll answer those questions and give tips on developing compelling video content.
Why Are Videos Important In A Company?
Video content has exploded in recent years and is now one of the most favoured content formats on the internet. But the appeal of video content is not just restricted to entertainment purposes. Video also extends to brands, with studies showing that 54% of consumers want to see more video content from a company they use or like (HubSpot, 2018). So it's no surprise that videos are so popular. They offer a way to show everything, from your products and services to your company culture.

Videos, especially on social media, are also more likely to get shared than other types of content — with the potential to reach a wider audience than any other content you could publish online. Whether on a blog, Instagram, or YouTube, people can't seem to get enough of videos!

So hiring the right video production company is essential when you need help getting your message across through video. And when choosing the right video production company for your business needs, it would be best to keep some things in mind.
Set A Budget
There are many factors to consider when choosing the right production company in Singapore, and it's not always easy to know where to start. So do your research before you commit because there will be costs involved, no matter the project you're looking for.

Setting a budget will help you and your video production company work together more efficiently. We recommend getting estimates from at least two companies to determine market rates and the type of footage most appropriate for the project. It saves time spent looking through proposals and potential disappointment if expectations aren't met.
Know What You Want To Achieve
Knowing what you want and need is a must for your company. But first, you must consider your company's current situation and what kind of video will most effectively reach your target audience. Several types of video content get utilised in businesses, each with unique benefits, so decide which will work best.

Now look at some example videos to see how the video types can be used effectively:


The Novice
As a beginner and have little to no experience in a situation, it may be hard to know what you want as your first video for your business. If it's your first time to a corporate video, requesting an overview video is a great way to introduce the company and its products or services. It is because an overview video can give potential customers a better understanding of what the company does and how it can help them.

Additionally, an overview video can help to build trust between the company and its customers. This video should familiarise viewers with who you are while providing background info from watching one specific video. You can also have a product or service overview video showing people what the company offers and how the viewer's needs can be fulfilled. An introduction video would do well if you're starting.

A good example would be Hydropro Pte Ltd, a company that never had video experience, and NEO360 helped them in every way possible.
The Storyteller
A storyteller is someone with the ability to convey a message in an exciting and engaging way. They can make their audience feel like they are with them, experiencing the story firsthand. It is a potent tool for businesses, as it can help connect with customers on an emotional level. It's an engaging and captivating way to share your brand's story, what you do, and how you do it. When done well, it can create a connection with your audience, resulting in loyalty and long-term customers.

Video series is the perfect medium for businesses that want to tell a story. They allow you to build a relationship with your audience over time, gradually introducing them to your brand and its values. By the end of the series, your viewers will feel like they know your company inside and out.

Another great option is explainer videos that want to communicate their message concisely. According to HubSpot's study, 94% of viewers watch explainer videos to better understand a product or company, while 84% of those were persuaded to buy a product or service afterwards.

Explainer videos are perfect for complex concepts or products in a way that is easy to understand to your targeted audience. If that's what you wish to achieve, a video series and an explainer video are right for you and your business.

Look at the first video of #ShareATipSeries launched by the National University of Singapore's Office of Student Affairs by NEO360.
The Builder
If your company likes to get its hands dirty, roll up its sleeves and get to work, then company culture and promotional videos are perfect for you. At its core, the builder personality is all about creating tangible results. They're not content with just dreaming up ideas or discussing possibilities — they want to see things come to life. And that's precisely what a good corporate video can do for your business.

By showcasing your company's culture, products or services in an engaging and visually appealing way, you can inspire potential customers to take action and become invested in your offer. With the help of a skilled video production company in Singapore, you can bring your vision to life and reach a new level of success.

Watch idMED's corporate video by NEO360 as we tell their story and company culture.
Decide On Your Concept
After deciding on the video you need, let's take the next step of conceptualising what you want. Production companies love a client with a concept so they can work together to achieve your video's end goal. A video concept combines your thoughts and ideas and what you want the video to accomplish. If a company doesn't understand these basics, it won't be able to provide you with the result you're looking for.

Choose a company that will be able to produce what you're looking for. Check their profile and make sure that their previous works are in line with what you're envisioning. Production companies here in Singapore will work on your vision and deliver the final product according to your specifications. It's essential to know what you want from the get-go so that when you go into production meetings, everyone knows where they stand and can avoid any potential miscommunication or confusion.

We provided these questions to help you find the perfect match for your concept:
How do you want people to feel after watching your video (excited, inspired, contented)?
Are there any specific topics or messages that need to be conveyed in the video?
Have you developed a script, and if so, are there specifics that need to happen on camera?
What do you want to convey to your audience?
These will help define your needs to find a suitable video production company that understands your video concept. With these basic questions answered, choosing a production company becomes more straightforward.
See If You're On The Same Page
Being on the same page as your production team is crucial to your video's success. When everyone understands the vision and their role, it makes for a smooth production process and a better final product. Make sure they have some videos similar to what you're looking for — ask them about their approach and how they work with clients. Before attending meetings or talking on the phone, write down a list of questions to ensure that all your concerns are addressed.

Too many projects go off the rails because of simple miscommunications. It can lead to frustration, wasted time, and a subpar product. So, how can you avoid this? Take the time to plan properly and be willing to compromise when needed. By doing these things, we can ensure that our video production goes smoothly and that everyone is content with the result.
Take Your Pick
Choosing the right video production company in Singapore can make all the difference in the outcome of your video. Video marketing is more than just creating flashy video clips. It's all about telling your story and resonating with your audience. With videos that deliver results, NEO360 can help amplify your messages by providing an engaging narrative — one which speaks directly to each viewer.

NEO360 is a marketing agency in Singapore offering several creative digital solutions, including video production. Call us today to learn how we can create a video suited to your needs!
---
About the Author
Managing Director
A Mechanical Engineer by training who graduated from the Nanyang Technological University. With over 15 years of experience working in Start-Ups, SMEs and MNCs, he has driven sales revenue and leads across the Asia Pacific region. Shei Wah was one of the SEO Speakers at the first Search Engine Strategies Conference 2011 held in Singapore. As Managing Director, he aims to establish NEO360 in all of the world's major cities. Even as he works toward this goal, Shei Wah also dreams of his children's future happiness, and unwinds by doing calisthenics with his former school buddies three times a week.