How To Tell A Story Through Videos With NEO360's Executive Producer Sheikh Raqib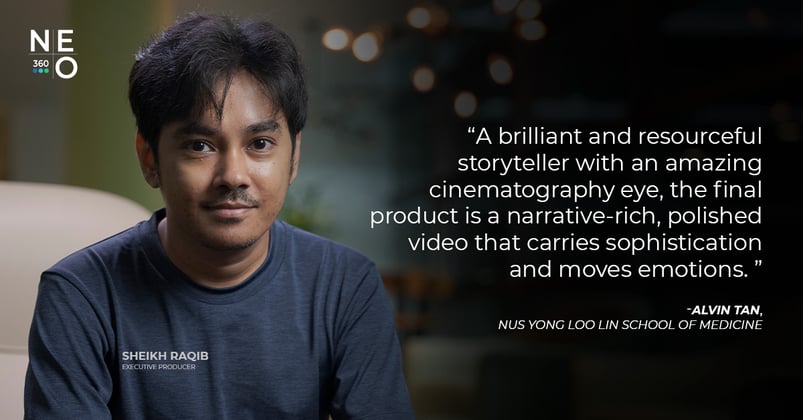 We know how video is one of the most powerful tools you can use to market your business. That's why we take a creative and collaborative approach to video production, crafting videos that are informative and engaging enough to tell a story.

This blog post will give you an inside look at NEO360's Executive Producer, Sheikh Raqib's processes and how he works with clients to create videos that help them achieve their objectives. Read on to find out.
Why did you choose this industry?
What was the factor that started your interest in storytelling for other companies?
What's your approach to storytelling?
What are some of the production realities that you have to accommodate? How do you navigate these realities?
What is the edge of TBPG among other video content agencies? How do you set yourself apart from other producers out there?
How do you do the video with the objectives in mind?
Can you share a win from a previous client? How did you achieve that?
What are some insightful tips you can share with future clients? And how can they make the process easier for both parties?
Why Did You Choose This Industry?
I wanted to be a filmmaker and explore filmmaking roles and projects. Pursuing that route made sense since I was into movies and stories.

Over the years, I decided to run a video company to build some foundation — something where I needed to find my footing. The intent was to help brands tell compelling stories through videos. My dreams are still my goals; I want to make films one day.
You Developed Your Interest In Films Because You Wanted To Tell Stories Through The Lens, But What Was The Factor That Started Your Interest In Storytelling For Other Companies?
I have always had a keen interest in telling stories — be it making films, documentaries or helping brands tell their story. However, I saw a market gap where there's a lack in assisting brands in telling compelling stories. Storytelling is complex, and it challenges one to think further than just "telling"; it's also about "showing" — the less you tell, the better. If you can't tell a story from that angle, it just shows you don't have a clear narrative and intention.

The approach must be clear for everything to have a motive for action when writing a story. It would be best if you have a motive, from point A to point Z. Nothing can be a form of accident or coincidence.

Good writers have clear intentions. So for me, that is how I first developed and got involved in helping businesses tell their story.
What's Your Approach To Storytelling?
By understanding the core message: What do you want to say? How do we create a compelling persona/character in a believable story?

The best stories are those in which the viewer becomes involved in a character's journey. Conversely, a lacklustre story will never engage an audience if it's not relatable.

Like in films, compelling characters in a story are a must. To root for them in their journey, people need to witness the character's successes and failures. In other words, the audience must feel for the character. Therefore, I focus on integrating that aspect, so the audience has a desire to join the character's journey.

Your brand is your character. So if you want others to be on your journey, it needs to be compelling for them to believe in your brand.
What Are Some Of The Production Realities That You Have To Accommodate? How Do You Navigate These Realities?
There will always be last-minute changes when it comes to production. Whenever something happens when filming, I always have something to look at on the spot; it comes with experience over the years to know and observe. Try to anticipate the obstacles around you.

And from my experience, sometimes the ones you predict are the least likely to cause you problems. And that is something we call the "blind spot". There's always going to be a lot of blind spots in front of me. So here you are expecting the least, then suddenly it comes out, and you're like, 'What will we do? How are we going to solve this now?' So it comes down to having a great team; I would say it's not always about me; it's about having a great team.
What Is The Edge Of TBPG Among Other Video Content Agencies? How Do You Set Yourself Apart From Other Producers Out There?
I always try to emphasise and be clear about the values I mentioned earlier. We are storytellers first. And for me, it's always about selling that thought process, how well you tell the story — for us, it's really about that. We don't have a template for our creative work. If you want fresh ideas, there should not be any template. It should be free-flowing. When there's a project thrown at you, you take it and make something out of it. If every video had a template, it wouldn't be unique.
How Do You Do The Video With The Objectives In Mind?
I ensure that the creative process is heavily taken care of so I can help them achieve their objective.

One of my strengths is to identify relevant resources with the right people. So it's not just about hiring people who can do the job. It's also assuring you have the right people doing the work to make the difference.

One of my strengths is to identify relevant resources with the right people. So it's not just about hiring people who can do the job. It's also assuring you have the right people doing the work to make the difference.

A lot of times, people always have this thought like, 'He's still a writer. What's the difference?'. There is a big difference. The style of writing and the thought process works differently. My point is to always hire the right people for the right job.

I'm very conscious about the writers that I work with. I need to make sure they understand what they are writing. They're just not simply writing. They need to be very clear about the thought process of the job itself. I work closely with my writers since they're the ones who set the tone for everyone.
Can You Share A Win From A Previous Client? How Did You Achieve That?
At the end of the day, when we deliver the work and the client is happy, that is a win for us. However, I'm always in a constant state of what could have been done better. The "that could have been" moments are a constant state of wanting to improve so that I won't be complacent with every project I'm engaged with. I believe I'm always in a continuous state of growth, always challenging the team and myself. If you don't grow, you die.
What Are Some Insightful Tips You Can Share With Future Clients? And How Can They Make The Process Easier For Both Parties?
We should come from a collaborative mindset, not a competitive mindset. There are some golden nuggets we can learn from one another.

We come from the industry where we are trading things professionally, and these things are something we've gone over from experience. With me, I've at least over a decade of experience. So I'm always looking forward to having a good discussion, like a sparring session with my clients and my team.

I'm always ready to collaborate. It is essential to come together and keep an open mind; together, we can tell great stories and hopefully move others.
---
Sheikh Raqib has a unique process and strategy for video creation that yields stunning results. He takes the time to know his clients to create their stories.

Here's a noteworthy testimonial from one of his clients:

Having done many marketing video projects in my career, Sheikh is, without a doubt, one of the best video producers that I have had the pleasure to work with. A brilliant and resourceful storyteller with an amazing cinematography eye, the final product is a narrative-rich, polished video that carries sophistication and moves emotions. If you are looking to create a video with a strong storytelling component, I would highly recommend Sheikh as your creative partner.

– Alvin Tan, NUS Yong Loo Lin School of Medicine

We hope you enjoyed an insider's look into one of NEO360's talented filmmakers' works.
---
About the Author
Managing Director
A Mechanical Engineer by training who graduated from the Nanyang Technological University. With over 15 years of experience working in Start-Ups, SMEs and MNCs, he has driven sales revenue and leads across the Asia Pacific region. Shei Wah was one of the SEO Speakers at the first Search Engine Strategies Conference 2011 held in Singapore. As Managing Director, he aims to establish NEO360 in all of the world's major cities. Even as he works toward this goal, Shei Wah also dreams of his children's future happiness, and unwinds by doing calisthenics with his former school buddies three times a week.