How we increased our client's leads by 167%: Busting the Top 3 Facebook Advertising Myths
We followed a proven Facebook Ads strategy by taking advantage of Facebook-rich customer data, targeting the right audience, and by crafting relevant ad copy that addresses a specific problem of the target demographics. This strategy seems so basic, but that's how to convert traffic into leads using social media advertising.
The reality is that, for this particular client, Facebook traffic converted 30% better than Google AdWords. But, in order to get this kind of result, you have to stop believing in some myths. These Facebook Advertising myths tend to keep hardworking, paid advertising marketers and business owners who personally manage their Facebook Ads from improving their social media traffic, leads and conversions. Some claim Facebook Advertising is just a fad and the internet will soon get over it.
That's a big myth, because Facebook Advertising has been growing since it was first introduced into the market. The latest figures from the Interactive Advertising Bureau revealed that Facebook together with Google AdWords took over the digital ad industry in 2016, while the rest are actually shrinking. In addition, eMarketer predicts that Facebook mobile Ad revenues will reach near $30 Billion this year, up 49.4% over 2015.
So, if you read some blogs and write ups that say Facebook Advertising is a complete waste of money, that's a LIE. Facebook has always been an important marketing channel for marketers and business owners. Over the last period, it has become a powerful lead generation Machine, with improved ad units, new targeting products and custom audiences designed specifically not just to build brand awareness but to increase sales as well.
Without further ado, here are the 3 Facebook Advertising myths that you should ignore. Knowing some common Facebook Ads myths and mistakes will make you more at ease when it comes to creating a successful ad campaign. In no particular order, the myths are:
Content: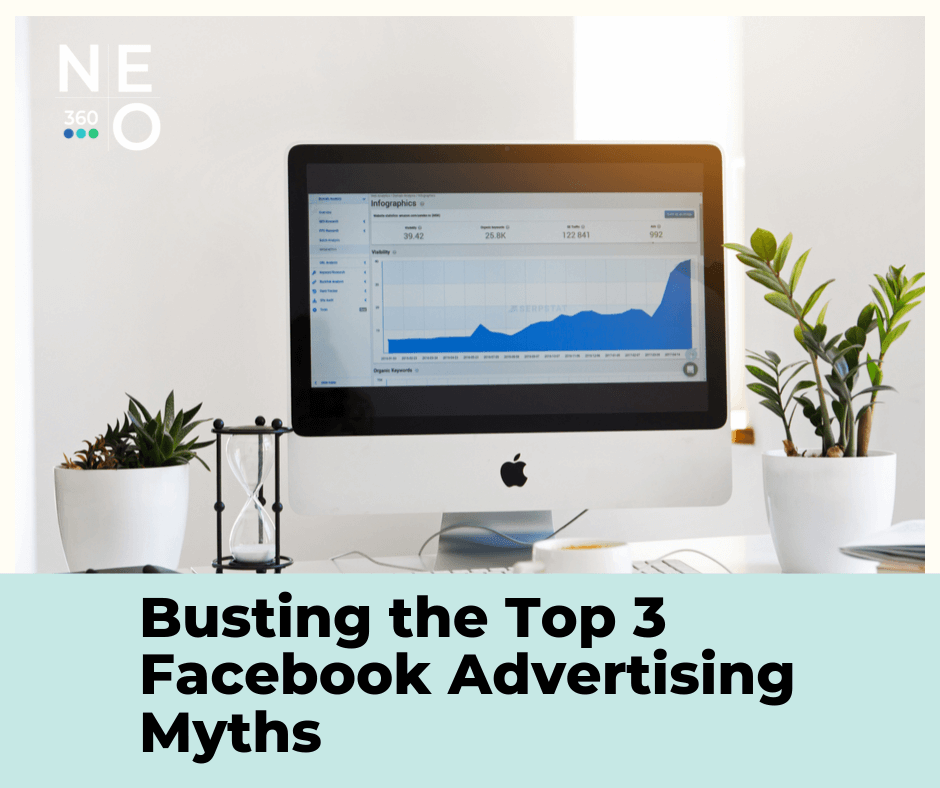 Myth 1: Facebook Advertising is ONLY for Big Brands
The truth is Facebook Ads can be VERY expensive if not used wisely. If you don't know how to properly manage your Facebook account, you are essentially flushing your money down the toilet. A poorly optimized campaign can be very expensive. If you don't know what you're doing, you'll find yourself losing money faster than Tiger Woods at a casino. In managing Facebook Advertising, it's not a question of how much it costs, but how far your money will go. For a monthly budget of $250, you can reach 48,390 people within your target market.
Now imagine, if you have monthly budget of $3,500, your campaign can potentially reach 200,000 qualified customers in a month who are most likely interested in your products and services. Not to mention the actual number of users who contact your business to purchase, or to book your services.
The best thing about Facebook ads is their rich customer data. For savvy advertisers, it makes them feel like a kid with a new toy on Christmas morning. Part of the reason why Facebook advertising works so well is that its platform offers powerful audience targeting tools, including user profile targeting, interest-based targeting and the ability to create custom Audiences, which may be used later for your remarketing campaign. What's not to love?
If you employ Facebook advertising with a clear goal, the cost-efficiency of the paid ad platform might surprise you. Facebook offers many advertising objectives to help you reach your business goals. Whatever your campaign's objective is, there's a type of ad for it!
Some example of Facebook Ads with Different Objectives Brand Awareness
The brand awareness objective is a way for advertisers to show ads to people who are more likely to pay attention to them.
a. Engagement (Boost your posts)
Reach as many people as possible and drive engagement with your ad.
b. Conversions (Increase conversions on your website)
Create ads that encourage people to visit your business website.
Myth 2: Facebook Ads are just for Branding
It is true that Facebook ads RULE in branding but it is ALSO equally true that Facebook is a powerful lead-generation machine for all business goals and types. In 2015, we started to run a Facebook lead generation campaign for a certain aesthetic clinic in Singapore.
The no. 1 goal of the campaign was to increase email conversions. Note that this clinic was new to the competitive beauty industry in Singapore. For this reason, we needed to run different campaigns on various channels including Facebook not just to increase email conversions but to increase the clinic's brand awareness as well. The expectations were high but at the same time challenging for our team. Below is the traffic and conversion data from Social Media Channel comparing performance from 2015 and 2016 (for this campaign, we only ran Facebook Advertising). Note that in the Goal Conversion column, the number of email enquiries received in 2016 increased by 167%.
Myth 3: Useful, but Will Not Work for my Business
Facebook Advertising may not work for your business, but the problem may NOT be the platform but how you run your Facebook campaign. Think of that before you throw the baby out with the bath water. We have seen a number of existing clients find success in Facebook advertising, targeting both B2C and B2B audiences. As we've mentioned before, detailed targeting will make or break your ad — and ALSO your marketing goals. In order to avoid these pitfalls, listed here are the examples of B2B and B2C targeting that you may want test on your next Facebook ads. B2C Facebook Targeting
Target by Age, Education & Relationship
Target by Interests (e.g. Luxury Products)
Target by Languages
B2B Facebook Marketing
Target by Company Names
Target by Job Titles
Target by Organizations
Target by Industry
Bonus Tips: Layered or Combined Interest Targeting with User's Profile to get a better Target Audience. The number might be less than 10,000 depending on how many restrictions you set, but you can be assured that this audience is most likely to respond to your ads.
Summary
Now that we've debunked these 3 myths, it should be easy to see how Facebook Ads can be the perfect complement to your digital marketing campaign, if implemented correctly. Combined with your AdWords and SEO efforts, it allows you to dominate the search and social media advertising channels and take prospective clients away from your competition.
We understand that running a Digital Marketing 360 Approach isn't always as straightforward as 1-2-3. From keywords to ad groups, choosing the right audience to effective ad copy, link building to ranking highly valuable keywords in search engines, the pros at NEO360.Digital can help you start your campaign or help you make it better. Learn more by talking to our experts.
Let's talk about your marketing performance!