5 Ways How Your Business Can Benefit From the Current Pokemon Go Craze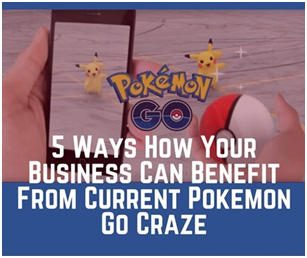 So there is this game today that probably explains why people in parks and malls are walking about with their noses glued to their mobile phones. Well, not quite glued, because you eventually see them furiously swiping both pointer fingers across their screens—and then jumping about in triumph or groaning loudly in defeat. The game: Pokémon Go.

Pokémon Go is an Augmented Reality game that uses a mobile device's GPS for players to "locate", "capture", "hatch", "train", and "battle" characters from the 90's collectible card game Pokémon. Since its release in July 2016, Pokémon Go has become increasingly popular worldwide. The game transcends age, location, culture, and gender. Everyone gets to play in augmented reality—the incorporation of the digital game with what the player actually sees through the mobile device's camera.

Due to its speedy rise in popularity, it is no surprise that even businesses have gotten into the craze—not to play, but to enable people to play. With the game developers selling "lures", a feature that allows a player to attract more Pokémon characters and to reach higher levels in the game, businesses have been quick to benefit from the online craze.

Actually, this is not the first time businesses have followed online trends. Back when social media platforms were just being introduced into the digital world, every business made their events and ads worthy of a post on Facebook and Instagram. But just how do they benefit from these online crazes, anyway?And do online crazes have a place in a complete, 360 Approach?Yes, they do, and here is how:
There is an increase in brand following and visits to physical stores.
If a trend has become viral, people's initial reaction is to try it out themselves. They visit shops at which they can follow the trend, buy the popular product, and even share via social media. This is an expected reaction especially since everyone wants to be part of the trend.When people get involved in a trend associated with your brand, or a trend that brings them to your store, then you are engaging these people—and engagement is key in a 360 Approach.
The brand becomes more popular among prospective and existing clients.
Definitely, anchoring a brand with something as popular as Pokémon Go increases the brand's popularity among clients. There will be easy identification because even the logo of the game is known to the public. Instant recognition and total recall are most beneficial to any brand because it easily translates into sales.
Being up-to-date with online trends increases the credibility of the brand.
These days, people tend to give more trust to brands they perceive as strong despite fast-moving digital advancements. The buying public thinks that the brand and the company that owns it have enough resources to keep up with the trends. Consequently, they think these brands also have what it takes to provide for their clients' needs.
Clients' interest will be maintained.
Developments are widely acknowledged by customers. In fact, they are always on the lookout for something new to be offered to them. Clients easily tire of repeatedly being offered the same thing, and want to keep trying something new. Thus, being able to offer them a change will keep them interested in your brand.
Loyalty to the brand also increases.
If clients know that the brand that manufactures their favourite product can always keep up with the changing times, they become loyal to it. They keep on buying for as long as they can afford it because they have confidence in the brand. They also have peace of mind knowing that the brand will not easily give up on keeping pace with technological advancements.Building brand loyalty is an important part of Earned Media, which in turn is one of the four pillars of our 360 Approach.
How to Take Advantage of Pokemon Go
Given that keeping up with online trends like Pokémon Go is really beneficial, how would a company actually go about it? Some tips are:
Research and be regularly active on social media.
Of course, there has to be an actual effort to find out what the current trend is. Aside from that, you should be able to relate to the public. There has to be interaction so your clients can get close to you.
Invest in gadgets and equipment.
Good wi-fi is actually a great investment when keeping up with online advancements. You should also invest in good computers, tablets, phones, and even gaming devices. After all, people can only enjoy as long as the devices don't go nutty on them.
Open your shop to the buying and participating public.
If there is one thing that makes parks and malls more popular in this age of Pokémon Go, it is that they are very welcoming to the public. You have to be so, too. If you are operating a restaurant, for example, you may want to expand into al fresco dining so people can play while waiting for their food to be served. There has to be a more literal opening up of your physical business establishment to the public.
So, when the current craze, Pokémon Go, dies down, what then?
Admittedly, online trends can only go on for so long. Pokémon Go might not even sustain its popularity until the end of the year. So having a business depend entirely on a particular trend might be a little risky. What you should make sure of is that your ability to withstand the passing of trends. You can do this by engaging with your clients while trends last. If you build your reputation together with an online trend, you will forever be remembered as the brand that keeps up with the changes. Therefore, you will never be forgotten even when all the Pokémon have been caught.